Starring:
Kim Young-kwang as Kang Jin-gu, 29yo, popular with women
Yook Sung-jae (BtoB) as Kang Min-ju, 19yo judo athlete
Oh Jung-se as Gu Kwang-soo, 39yo uncle
Choi Ro-woon as Kang Dong-gu, 9yo child star
About: A family with males aged 9, 19, 29 and 39. The mother believes in the Korean superstition that anything ending in nine is cursed.
Genre: Romance / Family / Comedy
N0 of eps: 14          Release date: 29 Aug 2014
Rating: ♥ ♥ ♥ ♥ ♥   ♥
Recommended: If you like romance, Yook Sung-jae or friends-turned-lovers
Reasons for watching: Heard Sungjae was good in it.
Reasons to keep watching: Kim Young-kwang's love story & Sungjae
Re-watch: Will have better things to watch but I still reminisce. Edit: I lied, I'm watching the main couple again.

Supporting Characters:
Park Cho-rong (Apink) as Han Soo-ah/Bong-sool, Min-ju's love interest
Kim Ye-won (Jewelry, former) as host/radio DJ ep.1
Gush time: I've never had that much interest in Kim Young-kwang but he can act. His love story was really cute in this drama but mainly because the female was tomboyish so they had a love/hate relationship. She really reminded me of Eunji's character in Reply 1997 in both looks and personality.
Yook Sung-jae is of course very cute and sexy, there's a topless scene. I felt that his face was too skinny though, hope he didn't have to unhealthily diet for that body. I also really love his hair even though it's a bit weird.
At the start of ep 4/end of ep 5 when he kisses the girl one-sidedly her top literally says "kiss me like you miss me." It's not that I believe in rape culture when a male says the way she was dressed meant "she was asking for it" but her clothes were literally saying so. I wonder if the stylist knew, surely it can't be coincidence but it's in English.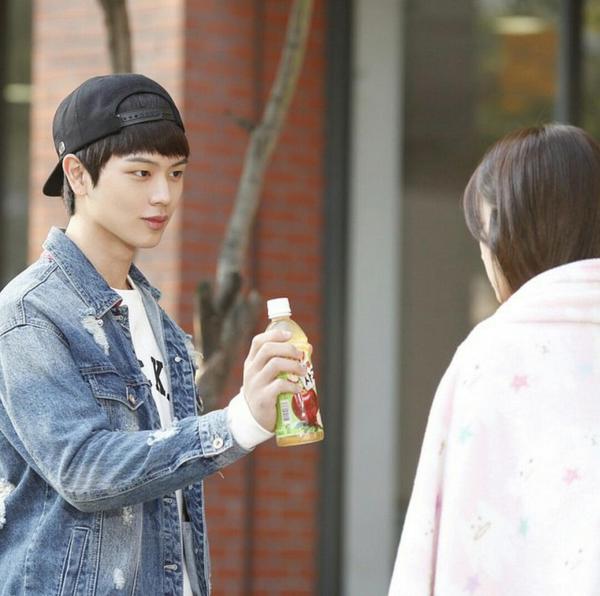 Rant time: I didn't like Park Cho-rong which is why I wasn't interested in Yook Sung-jae's love story. I didn't like the way she talked as her gentle self and her acting skills didn't help.
Kang Jin-gu's friend was just such a strangely made character. He's supposed to be expressionless, for some reason, but then he suddenly wasn't. Not sure if he's supposed to be a comic relief or serious character.
About 7 episodes in I stopped watching Gu Kwang-soo's love story and I didn't watch Kang Dong-gu's from the start. Kang Dong-gu was too embarrassing although I praise the kid's acting, I hope he grows up well, hotties. Gu Kwang-soo's love story was well written I just couldn't be bothered with it. I watched their past and explanations but not much of their present time interactions.
Conclusion: The only reason not to watch this would be because there are better dramas to watch otherwise I would recommend it. It's well done but the only couple I really wanted to be together were the main ones. SPOILER [At least I'm not left heartbroken.]