I put these in order, with a lot of struggle, I was contemplating not doing so but there is such fun in ranking them. I judged it on the feelings I had the time I watched it and how many times I've watched it.
For the dramas with the same leading men I put the drama I first saw the actor in, thus falling in love and squealing over the hot guy, on a higher rank, but the dramas themselves may be similar.
I recommend watching these in an opposite order! It's so hard to watch a (lesser) drama after a really good one, don't you think?
1. Healer (2014) 10/10
Genre: Action / Romance / Comedy
A night errand guy with awesome fighting skills is tasked to find a young woman on his customer's request.
Starring: Ji Chang-wook, Park Min-young & Yoo Ji-tae
Sweetest action/romance drama ever. I have too many feels for this drama. I love the bad guys, I didn't just slightly pity them but still think they were an idiot at the end of the drama when their reasons for their evil was revealed. No. I loved them. But even more than that was my love for the side characters. I have an enormous amount of love for them. On top of that my love for the main characters are so immense, separately and even more as a couple. That is why this is my favourite drama and I cannot imagine that ever changing.
Honourable mention: The K2 (2016) 8/10 because Ji Chang-wook is a bodyguard for the presidential candidate's daughter Yoona (SNSD). It's a rather similar action/romance. Worth watching but doesn't compare in my opinion.
2. The King 2 Hearts (2012) 9/10
Genre: Romance / Action
Set in a South Korea that still has a monarchy the prince is materialistic and doesn't care for his position. His brother, the King, tricks him into joining a military collaboration with North Korea.
Starring: Lee Seung-gi, Ha Ji-won, Jo Jung-suk & Lee Yoon-ji
I love royalty stories. I also love Lee Seung-gi as an actor, even though he's not as good-looking as other actors. He has perfected character development.  # SPOILER His character changes from the dumb, selfish second prince to one facing his flaws and trying to woo a woman to a confident, powerful king of his country. That is the reason I love this drama more than anything. His characters in You're All Surrounded and Brilliant Legacy also change but in this drama his acting talent is really showcased. This is also the drama with the evil person I hate the most, he's also really weird, and I always skip his scenes but in saying that I'd rather watch a hateful rather than boring scene.
In short what makes this drama number two is the prince's character development, the king and the two love lines.
Genre: Medical / Romance
As a child Park Hoon and his doctor father were sent to North Korea. There Hoon fell in love and tried to flee to South Korea with his girlfriend but lost her. He starts working at a hospital as a genius thoracic surgeon while looking for her.
Starring: Lee Jong-suk, Jin Se-yeon, Kang So-ra & Park Hae-jin
I wonder if I had watched I Hear Your Voice first if that drama would be sitting in third place instead. And if I would have loved Lee jong-suk just as much from it. The characters themselves are a bit similar but I think I still would have loved him in Doctor Stranger more than I Hear Your Voice. His character has much more charisma in Doctor Stranger. But Lee Jong-suk isn't enough to bring this drama to number 3, I also love Park Hae-jin, Jin Se-yeon, Kang So-ra, AKA everyone else in the poster, and Bora (SISTAR).
4. Reply 1997 / Answer Me 1997 (2012) 10/10
Genre: Teen / Comedy / Romance
Set in Busan in 1997 (and 2012) about a group of high school friends.
Starring: Jung Eun-ji (Apink), Seo In-guk, Shin So-yul, Hoya (Infinite), Eun Ji-won (Sechs Kies) & Lee Si-eon
Most famous Korean cable drama? I love this drama. Any drama that can make me go from hating to loving an actor is amazing. One of the biggest reasons I love this drama is because of the satoori. Seoul dialect just doesn't deliver charisma well in my opinion. You're All Surrounded also starts off in a Masan dialect. Also all the characters are so colourful and rich. Again, I love this drama.
Honourable mention: Reply 1988 (2016) 8/10, it was great but I'm not likely to watch it again.
5. You're All Surrounded (2014) 9/10
Genre: Action / Romance / Comedy
Four rookie detectives form a team with two senior detectives. None of the rookies dreamed of being a detective and Seo Pan-seok has to somehow manage them. However rookie Eun Dae-gu is there for a reason and has never forgotten Seo Pan-seok in 11 years.
Starring: Lee Seung-gi, Go Ara, Cha Seung-won, Ahn Jae-hyun & Park Jung-min
I love this drama for I get to fangirl over Lee Seung-gi and Ahn Jae-hyun. I also really like the main actresses. I would say this and Pinocchio are similar in terms of how much I like the story, how it plays out and all the characters but the reason they have such a difference in rankings is mainly because of the actresses.
In the little things this drama also wins over Pinocchio such as I will take Ahn Jae-hyun over Kim Young-kwang any day. Seo Pan-seok's love line wins over the other love lines in Pinocchio, because Oh Yoon-ah is hot.  Most importantly Park Shin-hye's kiss scene in Pinocchio was better than usual but it can't compare to Lee Seung-gi's amazing kiss scenes. I'd think if he were to ever be partnered with Park Shin-hye she would still ruin it though. Actually Pinocchio's kiss scene required so much theatrics and beauty whereas You're All Surrounded's kiss scene at the end, hiding in a storage room gave me the same heart fluttering feelings.
Genre: Coming-of-Age / Romance / Sports / Comedy
An aspiring Olympian female weightlifter and amazingly talented male swimmer meet at their sports university.
Starring: Lee Sung-kyung & Nam Joo-hyuk
This drama gave me such cute and happy feels ♥ ♥ ♥ It's been a while since I've gotten those happy feels so intensely. I was starting to think I was turning into the Grinch.
Genre: School / Friendship
It's a school drama. Purely and entertainingly a school drama. With studies, friendships, families, teachers, bullies, etc. It's the fifth part of KBS' School series that ran in 1999-2002, 2013, 2015.
Starring: Lee Jong-suk, Kim Woo-bin, Jang Nara, Choi Daniel & Park Se-young
As the only highest-romance drama on this list it's got to be good but even though it doesn't have romance it does have my favourite, and real life, bromance of Lee Jong-suk and Kim Woo-bin. It also doesn't stop me shipping characters together. This is another drama that I liked more the second time I watched it because I only loved the lesser characters towards the end of the drama so when I watched it again I already loved all the characters and enjoyed every scene.
8. Emergency Couple (2014) 8/10
Genre: Romance / Comedy / Medical
A couple marries young, despite opposition from the husband's rich family. To earn money the husband quits university and starts working. The stress takes a toll on their relationship and they divorce. Six years later they end up as interns at the same hospital.
Starring: Song Ji-hyo & Choi Jin-hyuk
I did rate it an 8/10 and it's a cable drama, so they're a bit different and tend to not be as intense. Also, while I love Song Ji-hyo, she is at best a B-list actress, and this was Choi Jin-hyuk's first leading role. Choi Jin-hyuk who? You may ask. Kim Tan from The Heirs' older brother, I reply. Ahhhh, you try and remember. However the reason it's on this list is because it's a wonderfully executed rom/com. The leads are the argumentative and teasing but the absolutely adorable together kind of couple, my favourite, and I can't get enough. I want more. I want to follow their lives until they have children and grandchildren. I've watched this drama twice so far and it's not stopping there.
9. It's Okay, That's Love (2014) 10/10
Genre: Romance / Comedy / Medical
A psychologist and a fiction writer on psychological thrillers meet on a talk show and sparks fly.
Starring: Gong Hyo-jin, Jo In-sung, Sung Dong-il, Lee Kwang-soo, Do Kyung-soo (EXO) & Lee Sung-kyung
The topic of this drama is so new and inspiring and everything is done perfectly. From the acting to the script to the scenes. Right down to the littlest details like the colour scheme. There are no flaws in this drama, especially in the message. All the characters have their own problems but It's Okay, That's Love.
10. Goong / Princess Hours (2006) 8/10
Genre: Romance / Comedy
Imagine that South Korea still had a monarchy. A normal high school girl overhears the handsome prince that goes to her school proposing to a girl only to be rejected. She then goes home only to find out she has an arranged marriage with that very same prince. She doesn't want to but her family is in debt and she has no choice.
Starring: Yoon Eun-hye, Ju Ji-hoon, Kim Jeong-hoon & Song Ji-hyo
The first and oldest Korean drama I've watched. I would have been 13 at the time? My cousins were watching a re-run on a Chinese channel and I joined in part way through. I then went home to find it online. I doubt I will ever watch another drama from before 2008. I've watched it 4 times now. I think it's partially nostalgia that makes me watch it over and over. I guess it's true what they say, you can never forget your first love, the first time your heart thumps while watching the drama, wishing that everything ends well for the characters, shipping all the characters together. But I think what made it so great, and so nostalgic, is the music and teddy bear summaries. More than anything. Also although I don't like Yoon Eun-hye much she's a better actress than many others out there and more importantly does great kiss scenes.
Genre: Romance / Comedy / Fantasy
An alien landed on earth, met a girl and got stuck. After living a lonely, isolated life for 400 years he meets a girl who looks exactly the same as the one from long ago.
Starring:  Kim Soo-hyun, Jun Ji-hyun, Park Hae-jin & Yoo In-na
If you've heard of Korean dramas you've heard of this one and also Kim Soo-hyun, the leading man. My opinion on why it had so many viewers was for a few reasons, I go into detail in my post. However the reason that I wanted to watch this drama was because I was watching The Heirs Lee Min-ho and afterwards they would play a preview of You Who Came From the Stars. It was such an intriguing and most importantly sexy preview I had to watch it.
On to the actual drama itself. This was third drama I fully watched, right after The Heirs, and probably the one that really kick started my love for Korean dramas. It stars Kim Soo-hyun who played his alien character so perfectly and handsomely. I don't go fangirling over Kim Soo-hyun apart from in You Who Came From the Stars but he's a brilliant actor and he's an awkward cutie off-screen too. I do fangirl over Ahn Jae-hyun and Park Hae-jin too but only after I saw Park Hae-jin in Doctor Stranger.
If I hadn't watched this drama for the third time, after watching dozens of another dramas, it wouldn't have made this list and I would have only rated it an 8/10. Only after watching Producer did I learn of Kim Soo-hyun's brilliant acting skills. Only after Doctor Stranger did I come to love Park Hae-jin, the first time I watched the drama it took me a few episodes to realise that this guy who kept appearing was actually all the same guy. I have terrible facial recognition, do not sit next to me in movies. Only after finding annoyance with many female leads did I appreciate how Cheon Song-yi's annoyingness actually had depth and helped the drama. Only after watching other dramas did I find it refreshing for the "innocent" character to be the other female in the love square and the catty one to be the main lead.
Genre: Romance / Family / Comedy
Ki Ho-sang, captain of a firefighter squad, disappeared after a factory explosion that killed everyone inside. When his family is hounded by reporters, the older son disappears and his wife suicides with the younger son. Ki Ha-myung, the younger son, gets fished out of the ocean by an old man who mistakes Ha-myung as his eldest son, Choi Dal-po, who died 30 years ago. He gets adopted by the old man who lives with his son and granddaughter. So Ki Ha-myung, now Choi Dal-po, and Choi In-ha live together as uncle and niece of the same age. Choi In-ha has Pinocchio syndrome (not real), whenever she lies, she hiccups.
Starring: Lee Jong-suk, Park Shin-hye, Kim Young-kwang & Lee Yu-bi
As I've said, I love Lee Jong-suk, so here's another of his dramas. I love him and the guy who plays his brother is super cute. Overall I like this drama better than Doctor Stranger but I just don't ship the main characters as much, I don't really like Park Shin-hye.
Genre: Romance / Fantasy / Legal / Thriller
After his father is murdered, Park Soo-ha gains the ability to read minds and falls in love with an older girl who testifies against the murderer. They meet again when he's in high school and she's a lawyer but now she's changed.
Starring: Lee Jong-suk, Lee Bo-young, Yoon Sang-hyun & Lee Da-hee
Another wonderful Lee Jong-suk drama. This one is super sweet. Park Soo-ha ♥ Jang Hye-sung. Favourite Lee Jong-suk ship.
This is the section where the dramas are really good and highly recommended but wouldn't watch it again on my own accord for whatever reasons.
14. Yong Pal (2015) 9/10
Genre: Medical / Romance / Action
Kim Tae-hyun is a talented surgeon but he's borrowed a lot of money from a loan shark to pay for his school fees and sister's medical bills. To pay it off he offers his medical skills to those who can not go to a hospital such as gangsters. He's discovered by a team of corrupt doctors and is forced to help them look after "sleeping beauty," an heiress in a medically induced coma.
Starring: Joo Won & Kim Tae-hee
This is such a good, intense drama. It may have received a 10/10 if Kim Tae-hee was a better actress and so I would've been able to ship them adoringly. But no. She's not. I still wanted them to be together forever but that was just for Joo Won's character. Joo Won is such a good actor, like Kim Soo-hyun I'm not his fangirl but I am a fan.
15. Signal (2016) 9/10
Genre: Crime / Fantasy
A police profiler in 2015 discovers a walkie-talkie that allows him to talk to a detective from 1989.
Starring: Lee Je-hoon, Kim Hye-soo & Cho Jin-woong
This is the best non-romantic drama I've ever seen. I've never wanted to watch a sequel so badly.
Genre: Family / School
Jo Kang-ja was once known for being a tough, feared troublemaker in high school. When she gets pregnant in her late teens she decides to become a responsible mother. When Kang-ja discovers her daughter, who is now a high school student, is being bullied she decides to go back to high school to protect her daughter, as a student.
Starring: Kim Hee-sun, Kim Yoo-jung , Ji Hyun-woo, Ji Soo & Baro (B1A4)
I'd heard some really great things about this drama, that it takes school drama of the year; Who Are You: School 2015 was sooo disappointing. So I decided to watch it and it was really good, even when the characters were annoying! Only You Who Came From the Stars has also managed to do that. It was so good! I'm in love with Ji Soo and Baro now! I can't wait for their future dramas!
17. Bridal Mask / Gaksital (2012) 9/10
Genre: Action / Romance / Period
Set in Seoul 1930 during the Japanese oppression. Lee Kang-to is a pro-Japanese Korean in the Japanese police force working to capture "Bridal Mask," a mysterious freedom fighter. Later, he begins to don the Bridal Mask.
Starring: Joo Won, Jin Se-yeon, Park Ki-woong, Han Chae-ah & Shin Hyun-joon
The brilliance of this drama forced me to put this on the list. I won't ever watch it again but is such a good drama I highly recommend it. I was very close to giving it a 10/10 but since I wouldn't re-watch it I deducted a mark. I did skip quite a bit as well (I really don't like the looks of Joo Won's brother, I'm so shallow) and the ending! If it was any other way it'd be a bad drama but the ending!
18. W – Two Worlds (2016) 8.5/10
Genre: Romance / Fantasy / Suspense
Dr Oh's father goes missing while writing his webtoon. She is shocked to see he's drawn the main character dying on his lightscreen and while investigating gets pulled into the screen. She ends up on a rooftop with a dying man who she saves, realising he's the main character. She runs away and ends up teleporting back into the real world.
Starring: Lee Jong-suk & Han Hyo-joo
MORE LEE JONG-SUK! He didn't get to showcase enough of his acting skills and chemistry with Han Hyo-jyo enough in the drama. There was too much focus on the story! You have to watch the behind-the-scenes to see their chemistry.
The following I wouldn't mind watching again but probably won't get around to it.
19. Romantic Doctor, Teacher Kim (2016) 9/10 
Genre: Medical / Romance
A young, eager doctor with skill but no connections gets transferred to a rundown hospital where he meets an incredibly skilled surgeon and his sunbae who disappeared after her fiancee died.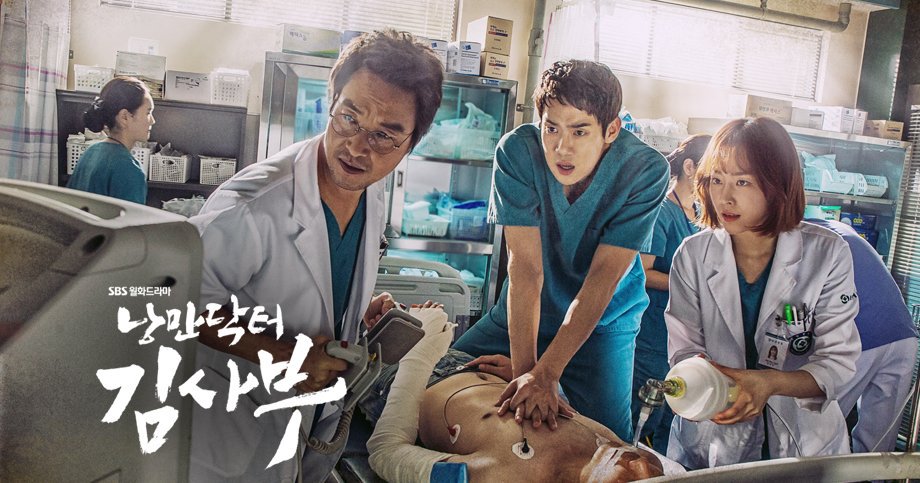 Starring: Yoo Yeon-seok, Han Suk-kyu, Seo Hyun-jin & Yang Se-Jong
This drama is different to your other medical dramas. It's focus is on learning to be the best doctor for the patients. Usually the main character is some genius who gets used politically while he gets to do whatever he wants because he's the best. Not here. There's more focus on how the entirety of the hospital is run as well. How important nurses are for example.
20. City Hunter (2011) 8/10
Genre: Action / Romance
In 1983 five officials planned a covert operation to enter North Korea and kill some of their high command. Amidst the operation the officials abort the plan to avoid an international crisis and kill the troops as they swim to their extraction point. One man survives and vows to avenge them. He kidnaps his dead friend's infant son, renamed Lee Yoon-sung, and raises him to be trained in combat in another country. A now adult Yoon-sung returns to South Korea to fulfill his adopted father's plan for revenge.
Starring: Lee Min-ho & Park Min-young
Lee Min-ho! This is not too dissimilar to Healer. A less glamorous, vengeful version perhaps. I really like the direction Lee Min-ho's character took for the revenge plot.
21. Good Doctor (2013) 8/10
Genre: Medical / Romance
Park Shi-on is an autistic savant who becomes a resident of pediatric surgery on a six month trial.
Starring: Joo Won & Moon Chae-won
Joo Won is nicknamed as the Prince of Ratings for a reason. He is such an amazing actor. He played his character so well. This is such a lovely drama.
 22. Cunning Single Lady / Sly and Single Again (2014) 8/10
Genre: Romance / Comedy
Na Ae-ra has always wanted to be a pretty housewife, she married Cha Jung-woo after he promises he will support her. During their 100th day wedding anniversary, he announces that he quit his job in order to start a business. His businesses keep failing and she struggles to support the household by working multiple jobs. While living in poverty and secretly suffering a miscarriage from the stress of working, she divorces him after four years of marriage. Three years later, she finds out that he has become a rich and successful president of a company while she is still paying off the debts that accumulated during their marriage. She wants revenge. Meanwhile Jung-woo, after meeting her again, believes that she wants him back because of his wealth.
Starring: Lee Min-jung, Joo Sang-wook, Kim Gyu-ri, Seo Kang-joon & Kim Myung-soo (Infinite)
Like Emergency Couple, it's a rom/com with ex-spouses. They are so fun, they bicker constantly. This is where I met my love L (Infinite). He's so cute!
23. Moonlight Drawn by Clouds / Love in the Moonlight (2016) 8/10 
Genre: Romance / Coming-of-age / Historical
A girl, who was raised as a boy, meets the intelligent but mischievous Crown Prince.
Starring: Kim Yoo-jung, Park Bo-gum, Jinyoung (B1A4), Chae Soo-bin & Kwak Dong-yeon
A historical drama that isn't filled with faceless old men muttering about who-knows-what! Just cuteness and more cuteness!
24. Brilliant Legacy / Shining Inheritance (2009) 8/10
Genre: Romance / Comedy
Go Eun-sung's widower father remarried when she was 16. She gains a stepmother and stepsister. A few years later her father suddenly dies and her stepmother kicks her and her autistic brother out of the house. Her brother then disappears. While trying to earn money she meets and helps Jang Sook-ja, a food company president, who is pretending to be a poor old lady. Sook-ja was touched by her compassion and decides to bring her home to live to see if she can be the heir instead of her selfish grandchildren.
Starring: Han Hyo-joo, Ban Hyo-jung, Lee Seung-gi, Moon Chae-won & Bae Soo-bin
A classic drama. As said many times, I love Lee Seung-gi. This is his first drama in the lead role and he was amazing as his future self proved. Although I would actually describe this drama as Go Eun-sung being the main character then the grandma and Seung-gi's character. The drama is a bit on the longer side so it takes a while for Seung-gi's character to make an impact.
25. Master's Sun (2013) 8/10
Genre: Romance / Comedy / Horror
Gloomy Tae Gong-shil started seeing ghosts after an accident a few years ago. She discovers that while she's touching Joo Joong-won, a stingy and greedy CEO, she no longer sees them.
Starring: Gong Hyo-jin, So Ji-sub, Seo In-guk & Kim Yoo-ri
The first few episodes are a bit scary, Asian horror is so scary, but it's totally worth it and I, a massive scaredy-cat, is saying this.