This is a less biased version of my favourite dramas. It has more focus on if it's a great overall drama, basically if I couldn't go around skipping parts like I do. I tried to judge it based on the first time I watched it because I skipped less parts then. Unlike my favourites list which is more based on how many times I've watched it.
15. Bridal Mask / Gaksital (2012) 9/10
Genre: Action / Romance / Period
Set in Seoul 1930 during the Japanese oppression. Lee Kang-to is a pro-Japanese Korean in the Japanese police force working to capture "Bridal Mask," a mysterious freedom fighter. Later, he begins to don the Bridal Mask.
The brilliance of this drama forced me to put this on the list. I won't ever watch it again but is such a good drama I highly recommend it. I was very close to giving it a 10/10 but since I wouldn't re-watch it I deducted a mark. I did skip quite a bit as well (I really don't like the looks of Joo Won's brother, I'm so shallow) and the ending! If it was any other way it'd be a bad drama but the ending!
14. Romantic Doctor, Teacher Kim (2016) 9/10
Genre: Medical / Romance
A young, eager doctor with skill but no connections gets transferred to a rundown hospital where he meets an incredibly skilled surgeon and his sunbae who disappeared after her fiancee died.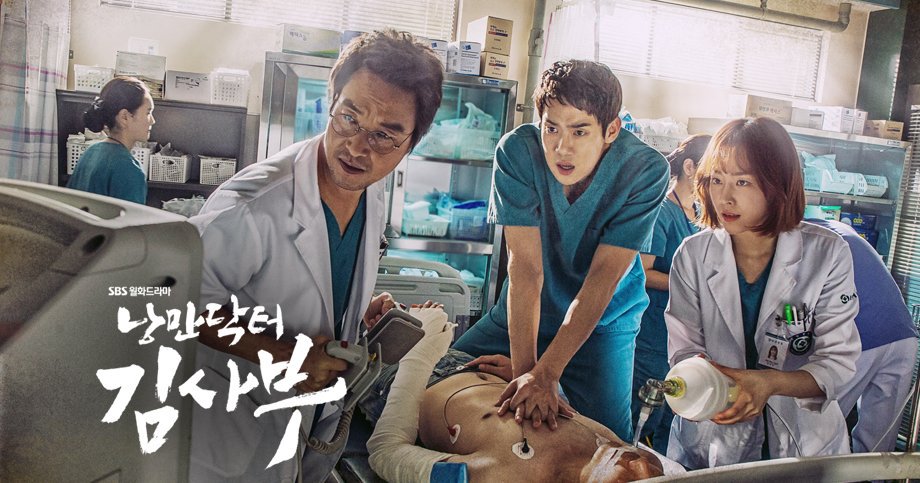 Starring: Yoo Yeon-seok, Han Suk-kyu & Seo Hyun-jin
This drama was praised by medical experts for how much more accurate it is than other dramas. It was also praised by nurses for showcasing how important and necessary they are in hospitals and surgeries. Usually medical dramas focus on heart surgeries and other fancy medical departments but because it's set in a tiny hospital in the middle of nowhere it's main focus is on the emergency department. It also touches onto aspects hospitals that are usually ignored in dramas.
Genre: Family / School
Jo Kang-ja was once known for being a tough, feared troublemaker in high school. When she gets pregnant in her late teens she decides to become a responsible mother. When Kang-ja discovers her daughter, who is now a high school student, is being bullied she decides to go back to high school to protect her daughter, as a student.
Starring: Kim Hee-sun, Kim Yoo-jung , Ji Hyun-woo, Ji Soo & Baro (B1A4)
I'd heard some really great things about this drama, that it takes school drama of the year; Who Are You: School 2015 was sooo disappointing. So I decided to watch it and it was really good, even when the characters were annoying! Only You Who Came From the Stars has also managed to do that. It was so good! I'm in love with Ji Soo and Baro now! I can't wait for their future dramas!
Genre: School / Friendship
It's a school drama. Purely and entertainingly a school drama. With studies, friendships, families, teachers, bullies, etc. It's the fifth part of KBS' School series that ran in 1999-2002, 2013, 2015.
Starring: Lee Jong-suk, Kim Woo-bin, Jang Nara, Choi Daniel & Park Se-young
Normally I struggle with dramas with too many characters, because I'm bad with faces and tend to invest in only one/two people, but in this drama, even though everyone's in uniform, I can remember them all. They each get their own focus throughout the drama but I wasn't thinking 'who is this person?' or 'this is random' when it came about like I usually do.
11. Yong Pal (2015) 9/10
Genre: Medical / Romance / Action
Kim Tae-hyun is an extremely talented surgeon but he's in terrible debt. He borrowed a lot of money from a loan shark to pay for his school fees and sister's medical bills. To pay it off, he offers his medical skills to those who can't see doctors such as gangsters. He's discovered by a team of corrupt doctors and is forced to help them look after "sleeping beauty," a beautiful heiress in a medically induced coma.
Starring: Joo Won & Kim Tae-hee
This is a very intense drama. It may have received a 10/10 if Kim Tae-hee was a better actress and so I would've been able to ship them adoringly. But no. She's not. I still wanted them to be together forever but that was just for Joo Won's character. Joo Won is such a good actor but like Kim Soo-hyun I'm not his fangirl but I am a fan.
10. Signal (2016) 9/10
Genre: Crime / Fantasy
A police profiler in 2015 discovers a walkie-talkie that allows him to talk to a detective from 1989.
Starring: Lee Je-hoon, Kim Hye-soo & Cho Jin-woong
This is the best non-romance drama I've ever seen. I've never wanted to watch a sequel so badly.
Genre: Medical / Romance
As a child Park Hoon and his doctor father were sent to North Korea. There he fell in love and tried to flee to South Korea with his girlfriend but lost her. He starts working at a hospital as a genius thoracic surgeon while looking for her.
Starring: Lee Jong-suk, Jin Se-yeon, Kang So-ra & Park Hae-jin
This is my third favourite drama so it's got to be on this list! I love Lee Jong-suk and well everyone in the poster, plus Bora (SISTAR). Their all so good looking and hot. The evil people are a bit too evil to watch more than once but I watched it the first time… mostly.
8. The King 2 Hearts (2012) 9/10
Genre: Romance / Action
Set in a South Korea that still has a monarchy, the prince is materialistic and doesn't care for his position. His brother, the King, tricks him into joining a military collaboration with North Korea.
Starring: Lee Seung-gi, Ha Ji-won, Jo Jung-suk & Lee Yoon-ji
I said less biased not totally unbiased but I would put up with the bad guys for my lovely Lee Seung-gi or maybe I'll just start making tea or something until it gets back to the good bits. Although like I said in the favourites list I'd rather watch a hateful bad guy scene than a boring one filled with old men talking angrily. His bad guy scenes were anything but filled with old men talking angrily so it's a good change, if still hateful.
Genre: Romance / Comedy / Fantasy
An alien landed on earth, met a girl and got stuck. After living a lonely, isolated life for 400 years he meets a girl who looks exactly the same as the one from long ago.
Starring:  Kim Soo-hyun, Jun Ji-hyun, Park Hae-jin & Yoo In-na
The actors in this drama are so good and they give me so many feels despite my lack of fangirling, that takes a lot of skill. I even hated the female lead to start with! Which is the point I suppose. It's a really nice change compared to other dramas, it has great actors, depth, well produced, a great mix of comedy and melo.
6. You're All Surrounded (2014) 9/10
Genre: Romance / Comedy / Action
Four rookie detectives form a team with two senior detectives. None of the rookies dreamed of being a detective and Seo Pan-seok has to somehow manage them. However rookie Eun Dae-gu is there for a reason and has never forgotten Seo Pan-seok in 11 years.
Starring: Lee Seung-gi, Go Ara, Cha Seung-won, Ahn Jae-hyun & Park Jung-min
Another Lee Seung-gi drama. I love all main characters, they're so cute and funny. They each have individual characteristics that bring diversity to the drama and really pulls it together. I love Lee Jae-ha (The King 2 Hearts) more than in Eun Dae-gu (You're All Surrounded) which is why I love The King 2 Hearts more but overall You're All Surrounded is better. I love the (b)romances in this drama too but I don't ship the main couple as hard as in The King 2 Hearts.
Genre: Coming-of-Age / Romance / Sports / Comedy
An aspiring Olympian female weightlifter and amazingly talented male swimmer meet at their sports university.
Starring: Lee Sung-kyung & Nam Joo-hyuk
This drama gave me such cute and happy feels ♥ ♥ ♥ It's been a while since I've gotten those happy feels so intensely. I was starting to think I was turning into the Grinch.
Genre: Romance / Family / Comedy
Ki Ho-sang, captain of a firefighter squad, disappeared after a factory explosion with nearly everyone else dead. When his family is hounded by reporters, the older son disappears and his wife suicides with the younger son. Ki Ha-Myeong, the younger son, gets fished out of the ocean by an old man who mistakes him as his eldest son who died 30 years ago. He gets adopted by the old man who lives with his son and granddaughter. So Ki Ha-Myeong, now Choi Dal-Po, and Choi In-Ha live together as uncle and niece of the same age. Choi In-Ha has Pinocchio syndrome (not real), whenever she lies, she hiccups.
Starring: Lee Jong-suk, Park Shin-hye, Kim Young-kwang & Lee Yu-bi
If you've noticed, Lee Jong-suk is the main character of three dramas on this list. I love him and the guy who plays his brother is super cute. But this is not my most loved drama of his because Park Shin-hye just doesn't make me ship them as much as his other drama's co-stars. However, overall I love more characters and don't mind the bad guy characters so it has a much higher rank than in my favourites list.
3. It's Okay, That's Love (2014) 10/10
Genre: Romance / Comedy / Medical
A psychologist and a fiction writer on psychological thrillers meet on a talk show and sparks fly.
Starring: Gong Hyo-jin, Jo In-sung, Sung Dong-il, Lee Kwang-soo, Do Kyung-soo (EXO) & Lee Sung-kyung
This is a great drama. It's focus on mental health is refreshing. It's a lighthearted take on a very serious topic which we need in life. The character's are hilarious and their interactions are so cute.
2. Reply 1997 / Answer Me 1997 (2012) 10/10
Genre: Teen / Friendship / Comedy / Romance
Set in Busan in 1997 (and 2012) about a group of high school friends.
Starring: Jung Eun-ji (Apink), Seo In-guk, Shin So-yul, Hoya (Infinite), Eun Ji-won (Sechs Kies) & Lee Si-eon
What's amazing about this drama is that all the actors were not established prior to starring in it. A fair amount were also idol-actors which has a stigma, for a reason. However this drama proved those critics wrong. It's such a great drama.
Honourable mention: Reply 1988 was amazing too, I gave it an 8/10 but it's worth a 9/10.
1. Healer (2014) 10/10
Genre: Action / Romance / Comedy
A night errand guy with awesome fighting skills is tasked to find a young woman on his customer's request.
Starring: Ji Chang-wook, Park Min-young & Yoo Ji-tae
My absolute favourite drama. I even love the bad guys and the minor characters too. This is the only drama where I don't skip the bad guy parts when I watch it again. It's that good.