D.O.B: 1 Nov 1996      Age: 20 
Height: 173cm / 5'8″
He's sooooo cuuuuuute❣❣❣❣❣❣❣❣
I can't tell if he's a good actor or if my love for his cuteness overrules everything. He's definitely not a bad one. I have that much confidence in my judgement at least. Update: He's a great actor, I can't wait for future roles.
It's referenced in the drama Twenty Again that he looks like Yeo Jin-goo. It's true. He also looks like Song Joong-ki. I love Song Joong-ki.
He can sing, dance, rap and write lyrics! He was on Show Me The Money 4 or you can just YouTube him rapping and dancing.
His voice is so sexy even when he's just talking, it's so deep.
Dramas:
Persevere, Goo Hae-Ra (2015) Sa Gi-Joon
The Producers (2015) himself eps. 4, 10, 12

Where does he appear? I didn't know he existed back then but he made 3 appearances
I looked it up, he's in 2 Days & 1 Night with Cindy

Twenty Again (2015) Kim Min-Soo, son, lead role
Because It's The First Time (2015) Seo Ji-An, bromance/love triangle
My Little Baby (2016) Yoon Min, supporting role
Romantic Doctor, Teacher Kim (2016) as nurse Park Eun-tak
Goblin (2016) Wang Yeo, ep.1, 7-13
The Best Hit (2017)

1993 pop idol time travels to 2017
Lee Ji-Hoon is secretly an idol trainee, lead role

While You Were Sleeping (2017) cameo

A woman with premonition dreams & a prosecutor who helps her
Films:
Lovesling (2018)
Auspicious Grave (2018)
Variety Shows:
2015

Show! Music Core – MC
Show Me the Money 4 – contestant ep.1-2
Mari and Me – member
Radio Star – guest

2016

Celebrity Bromance – with V (BTS) ♥ ♥ ♥
Section TV
Video Star

2017
OST's:
Star with Solar of Mamamoo from Twenty Again (2015) The rapper. Apparently he composed the lyrics too.
Our Feeling with Lee Yoon Chan, Park So Dam, Lee Yi Kyung from Because It's The First Time (2015)
Show Me The Money 4
He looks so much like Song Joong-ki! Except he can actually rap and looks like it too. Joong-ki just tries… so adorable the both of them ♥ ♥ ♥
Persevere, Goo Hae-Ra (2015) I think…
Twenty Again (2015)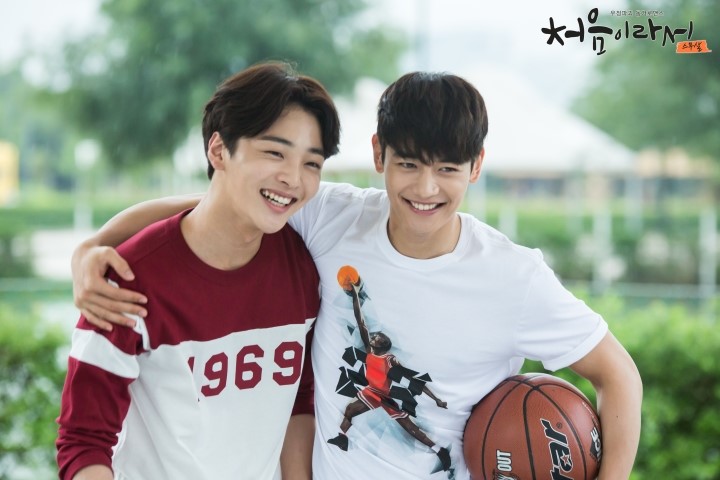 Hate his hair but love his bromance with Minho in Because It's The First Time (2015)