…that I have watched anyway.
The drama world was much better this year! So many dramas are still on my 'to watch' list! Although I have struggled to finish even the good ones but I want to! I'll get around to it eventually… hopefully…
Side note: Who writes up the wiki pages? Do they even watch the dramas? Why do they put the male as the lead when it's the female etc.
Genre: Coming-of-Age / Romance / Sports / Comedy
An aspiring Olympian female weightlifter and amazingly talented male swimmer meet at their sports university.
Starring: Lee Sung-kyung & Nam Joo-hyuk
Recommended because of the cute and happy feels ♥ ♥ ♥
Genre: Crime / Fantasy
A police profiler in 2015 discovers a walkie-talkie that allows him to talk to a detective from 1989.
Starring: Lee Je-hoon, Kim Hye-soo & Cho Jin-woong
Recommended because it's so good I want a sequel.
3. Romantic Doctor, Teacher Kim 9/10 
Genre: Medical / Romance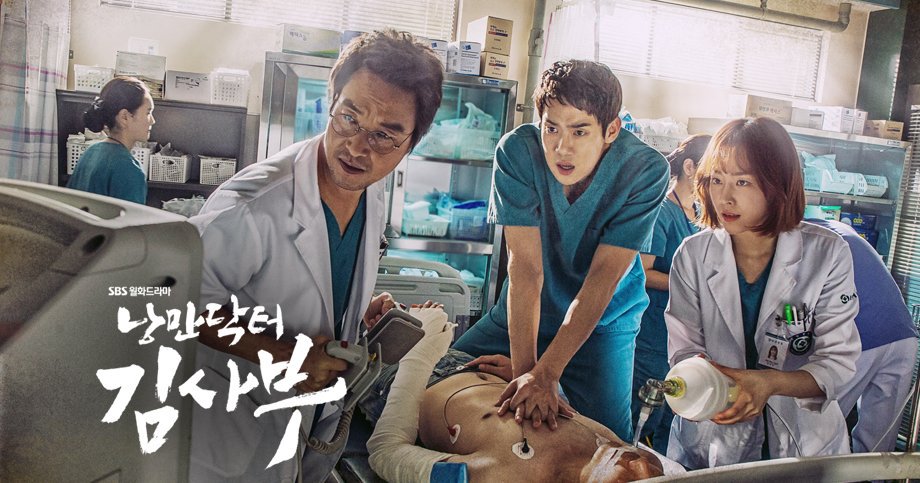 A young, eager doctor with skill but no connections gets transferred to a rundown hospital where he meets an incredibly skilled surgeon and his sunbae who disappeared after her fiancee died.
Starring: Yoo Yeon-seok ♥ (AKA Reply 1994's Chilbong), Han Suk-kyu & Seo Hyun-jin
Recommended because it's so good and so cute. Kim Min-jae ♥ New loves – Yoo Yeon-seok, Yang Se-jong ♥
4. W – Two Worlds 8.5/10
Genre: Romance / Fantasy / Suspense
Dr Oh's father goes missing while writing his webtoon. She is shocked to see he's drawn the main character dying on his lightscreen and while investigating gets pulled into the screen. She ends up on a rooftop with a dying man who she saves, realising he's the main character. She runs away and ends up teleporting back into the real world.
Starring: Lee Jong-suk & Han Hyo-joo
Recommended because of it's unique plot and good actors ♥ Lee Jong-suk ♥
5. Descendants of the Sun 8/10 
Genre: Romance / Action / Medical
The team leader of Alpha Team, an elite special forces unit falls in love with a doctor in the emergency department of a hospital. They try to date but their demanding jobs keep getting in the way and eventually part ways. Months later they meet in the war-torn country of Urk.
Starring: Song Joong-ki, Song Hye-kyo, Jin Goo & Kim Ji-won
Recommended because ♥ Song Joong-ki ♥ It's good but not great. It's like the picture above. Beautiful, cute, interesting, romantic but very obviously staged. Most famous drama of the year though.
Genre: Medical / Romance
A closed, scarred and prickly high school girl is abandoned, to be raised by her loving grandmother. She meets a man who turns out to be a teacher at her new school that also rents a bedroom from her grandmother. After they separate they meet 13 years later as neurosurgeons.
Starring: Park Shin-hye, Kim Rae-won, Lee Sung-kyung & Yoon Kyun-sang
Recommended because it's a surprisingly realistic yet not boring take on relationships.
So tbh I haven't finished the rest of the dramas on this list but they're good! I'm watching Romantic Doctor, Teacher Kim. I need to wait for it to finish first.
7. Moonlight Drawn by Clouds / Love in the Moonlight 8/10 
Genre: Romance / Coming-of-age / Historical
A girl, who was raised as a boy, meets the intelligent but mischievous Crown Prince.
Starring: Kim Yoo-jung, Park Bo-gum, Jinyoung (B1A4), Chae Soo-bin & Kwak Dong-yeon
Recommended because finally, a historical drama that isn't based on incomprehensible politics/fantasy but just life and romance. ♥ Kim Yoo-jung ♥
8. Lucky Romance / Romance by Luck 8/10 
Genre: Romance / Comedy / Workplace
An extremely superstitious lady is told to sleep with a man born in the year of the tiger to save her comatose sister. She meets a logical CEO of a game developer company who is born in the year of the tiger.
Starring: Hwang Jung-eum, Ryu Jun-yeol, Lee Soo-hyuk & Lee Chung-ah
Recommended because it's a solid rom/com drama. ♥ Ryu Jun-yeol ♥ Nice to see he's doing well after Reply 1988
9. Cheese in the Trap 7-8/10 
…up to ep.5? not far but far enough
Genre: Romance / Drama / Youth / University
A hardworking university student is suspicious of her popular sunbae.
Starring: Kim Go-eun, Park Hae-jin, Seo Kang-joon & Lee Sung-kyung
Recommended because it's good but I can't get over Park Hae-jin's oldness (hopefully you do). Love him but he can not play university students, he's too mature, just look at the picture. Also, I'm not sure how everyone but the two main characters fit.
10. The K2 7/10
Genre: Action / Politics / Romance / Melodrama
A mercenary soldier is framed for the murder of his lover. He becomes a fugitive. He eventually comes to South Korea and becomes a bodyguard of the wife of a presidential candidate. He accepts the job so he can get revenge on the true killer of his lover. He ends up as the bodyguard of the secret daughter of the presidential candidate.
Starring: Ji Chang-wook, Song Yoon-ah, Im Yoon-ah (SNSD) & Jo Sung-ha
Recommended because Ji Chang-wook ♥ I'm actually more into the story than the romance which is rare. Even then I'd rather just watch Healer again.
11.
Anticipating Another Oh Hae-young / The Legend of the Blue Sea / Shopping King Louie / Cinderella and the Four Knights / Jealousy Incarnate / Dear Fair Lady Gong Shim (Beautiful Gong Shim) / The Man Living in Our House / Moorim School / Entourage / The Good Wife / Goblin / The Flower in Prison / Please Come Back Mister too many, just too many