Song Joong-ki and Song Hye-kyo are getting married!? I did think they were dating when the first rumour associated picture surfaced but then I didn't really care because I didn't really care about their Descendant of the Sun characters so it left my mind. Married!? It's surprising they would do this at the peak of his career. This won't stop his star power but it's still surprising for Koreans.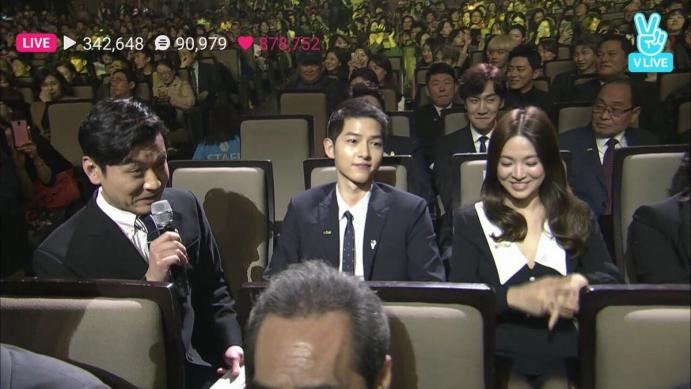 I heard that Lee Kwang-soo couldn't keep a straight face when the MC was asking them (dating?) questions. For those who watch Running Man though it's super easy to tell what that expression means. Where's the jealousy bro? I am assuming this is Joong-ki's poker face too – his eyes are suspiciously blank.
I know I haven't written up a Descendants of the Sun post but I was really disappointed in the drama. I had really high expectations and they weren't met. Although the drama sparked a craze I have met a few people with my opinion so I know it wasn't just me. The pace was too choppy and quick to impact my feelings. While people were in love with them as a couple but as someone else described – they did not have chemistry, what you are feeling is just Song Joong-ki.
So I had to look up their ages. He's 31 and she's 35. Cute little age gap with him being younger. I guess she's getting on in age for the baby-making…? Isn't that how Korean celebrities usually do it. Although I don't think so with this couple. They're just cutely and perfectly in love. But this is not shown in the drama, just outside the drama.
Look at all the photographic evidence! They really do look like a couple in love. No wonder they are stalked by rumours. I wouldn't really classify them as hiding a relationship. Clearly I've never Googled 'Song-Song couple' before now.
For more moments:
https://www.soompi.com/2017/07/05/15-best-song-song-couple-moments/?utm_source=recommended-articles&utm_medium=RIT2&utm_campaign=recommendations